Author: Alexandra Terziyska
If you are a music/ art lover, Berlin is simply the place to be.
Year 2020 in Berlin should have been a headbanger all the way through.
Instead, we are in the midst of a pandemic crisis struggling to survive.
Let me dedicate my playlist to all the bands I should have seen in 2020.
KORN
Wednesday, June 3, 2020 at 8 PM – 11 PM
Verti Music Hall
What can I say, somewhere in my head I'll be always stuck in this filthy, perplexed co-reality Jonathan Davis and his crew threw us into with their debut album so many years ago.
We were the Children of the Korn, no matter in which part of the world.
We were grown up enough to forebode the meanings of insecurity, humiliation, pain, abuse, cruelty; some of us have already lived through a lot, some others would soon be taking their (un)fair share.
But it was not only about that, it was also about rebellion, opening up, raising your voice, daring to tell your story…
As sentimental as I may be getting, I am fully aware of the fact we are 20-30++ years older now. 🙂
I am also aware my 16-year old self would have been looking forward to the show in quite a different way than my today's self does (or did) but one thing is for sure: In this life, I have to see Korn playing live!
Song: Korn – Children of the Korn
FAITH NO MORE
Tuesday, June 23, 2020 at 8 PM – 11 PM
Max-Schmeling-Halle Berlin
I still remember that date, April 20, 1998.
The day the band announced their break up.
"After 15 long and fruitful years, Faith No More have decided to put an end to speculation regarding their imminent break up… by breaking up. The decision among the members is mutual, and there will be no pointing of fingers, no naming of names…".
I was 14 years old, just made my first steps into the universe of alternative music but I already knew FNM would be my favorite band for life.
The thought I'd never see them on stage brought me to tears multiple times throughout the next years.
Then, in 2004 I skipped Patton once again as he was coming to Sofia, my home city, to beatbox with the rapper Rahzel. I was a poor cultural studies student living with my then-boyfriend, a poor musician. We had collected money for only one concert ticket and, knowing my multidimensional love for Patton, the boyfriend suggested that we'd buy this ticket and I'd go to the show.
"We don't sеpаrаtе, if we cannot go together, none of us goes!" – Еh, my 20-year old me was so true-blue!
The evening of the concert, we stayed at home and I cried my intestines out of grief.
When I take a look back, I believe the boyfriend might have really preferred to skip Patton and send me to watch him rather than witness my "Patton is there but I am not!" dreadful howls and groans.
After all, 5 years later my nearly obsessive fear that I will never experience Patton on stage happily came to an end when the fresh reunited FNM came to the Bulgarian festival Spirit of Burgas on August 14, 2009. My first and so far – only – FNM concert. Not the last time I saw Patton, though.
Last time I saw Patton – he was in the immediate vicinity. I mean it: immediate.
It was a Dead Cross show on July 3, 2018 in Berlin's SO36. After the end of the show Patton just jumped off stage, landed among us fans and started dancing/ slightly pogoing with us for a while. Unforgettable! I didn't even think to put out my phone and make a video as I was so stuck into the unreality of Patton's smiling face just some centimeters away from mine. Luckily, someone else did shoot it all (starts Epic's last chorus at 4:44, Patton jumps at 5:31 and joins the fans).
This shouldn't be our last dance with Mike Patton, though.
Song: Faith No More – Land of Sunshine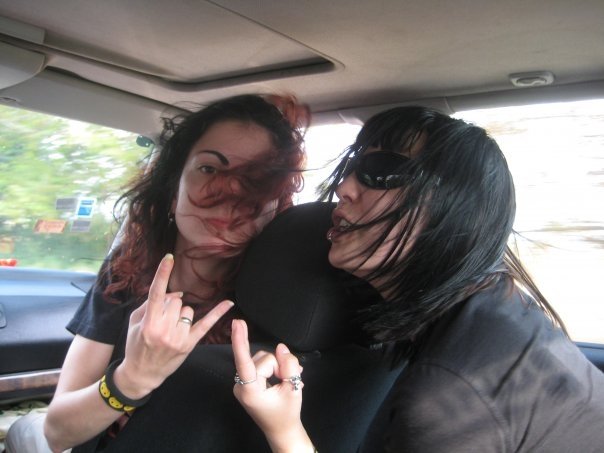 DEFTONES
Saturday, July 4, 2020 at 7 PM – 11 PM
Columbiahalle
July 4 has become a sacred date in my life since 2017 when my family landed to our new life in Germany's capital.
Celebrating our third Berlin anniversary at a Deftones concert, this would have been a bliss.
Plus, I have never been at their gig before and I really, really need to reveal how they sound.
An Internet user named mescalineeyes nailed it in a forum dedicated to a horrible 2018 Chino Moreno performance: "Deftones are one of my favorite bands but they don't exactly have a reputation for being good live."
Most probably we will hear the new album prior to seeing them on stage anyway… However, there is a separate musical heart of mine belonging solely to Deftones.
Recently metalinjection.net reported that the band is currently mixing their new album. Still, there are obvious obstacles. The site cites drummer Abe Cunningham: "We're currently mixing it. Given the current situation, it's been a bit difficult to get everyone in the same room. We can't. So, we're at least still doing that. I wanted to thank you for your patience, obviously, and, of course, your interest in that. It's coming."
Meanwhile, hats off to Deftones for giving all profits of their cancelled tour merch to their road crew. If you wanna support them, the merch is available to purchase online here.
Song: Deftones – Bored
DIE TOTEN HOSEN
Tuesday, August 18, 2020 at 4:30 PM – 11 PM
Waldbühne Berlin
The title of this blog post may be a little misleading as not all of the bands I will not see this year are amongst my favorites. This is exactly the case with Die Toten Hosen, somehow I never really got the right chance to even listen to a whole album.
Why did I buy that ticket anyway?
Last year I was invited to be a trainer within a wonderful event, International Student's Week in Tunisia. I designed my own workshop – "Short Forms of Creative Writing" – and I was unearthly lucky to have the best students from different parts of the world (my family of creative writers, if you are reading this – I love you!).
One of my students was Vili from Bulgaria, a timeless soul I instantly felt attached to and befriended with. After the end of the event she returned to Sofia, started a new job and through it got to meet Vesi, a good old friend of mine from our musical underground past in the basement of a club called "O! Shipka!". 😀 Vili and Vesi found out I was a common friend on Facebook. Not long after that Vesi contacted me and I invited her to visit me in Berlin.
We haven't met for the past 7 years or so, but we just went on from where we stopped last time. The topic music has always been a thing for us and it was not any different this time. One day I was telling Vesi the story of how a year ago my Berlin friend Cara had two Die Toten Hosen tickets from her aunt whose dog got sick so she couldn't attend. Cara was not a fan of the band at all but having the tickets anyway, she invited me to join. On the day of the show Cara and I headed to Waldbühne Berlin, just on the opposite corner of the city, where a drunk but friendly fan we met on our way informed us it got canceled due to an accident with a band member. He did not look as the most reliable human being I have recently met but unfortunately it turned out to be true.
My friend and I didn't make it to the actual concert several months later as we got distracted with our kids on the playground and it was too late. We both had a long day full of exhausting mummy duties so we skipped (it was lame but true).
I was telling Vesi exactly that story, sounding like: well, I had the tickets in my hand, but I was just too tired and a bit late.
How come I forgot I was talking to the die-hardest DTH fan alive!
I remember how her face changed several colors in a heartbeat."You… didn't go? Just like that?"