Autorin: Alexandra Terziyska
Wenn Du ein Musik-/ Kunstliebhaber bist, ist Berlin einfach der beste Ort!
Das Jahr 2020 hätte konzert- und erlebnismäßig ein Headbanger sein sollen.
Stattdessen befinden wir uns mitten in einer Pandemie und kämpfen ums Überleben.
Diese Playlist ist allen Bands gewidmet, die ich im Jahr 2020 hätte live genießen sollen.
KORN
Mittwoch, 3. Juni, 2020 um 20-23 Uhr
Verti Music Hall
Was soll ich sagen… irgendwo in meinem Kopf werde ich für immer bei dieser schmutzigen, verwirrten Co-Realität hängen bleiben, wo Jonathan Davis und seine Crew uns mit ihrem Debütalbum vor so vielen Jahren hineingeworfen haben.
Wir waren "the Children of the Korn", egal wo auf der Welt.
Wir waren erwachsen genug, um die Bedeutungen von Unsicherheit, Demütigung, Schmerz, Missbrauch und Grausamkeit zu kennen; einige von uns hatten bereits viel durchlitten, andere würden bald danach ihren (un)gerechten Anteil übernehmen.
Es ging aber nicht nur darum. Wir haben rebelliert, uns geöffnet, unsere Stimme erhoben, es gewagt, die eigene Geschichte zu erzählen…
Sentimental werde ich ja wohl auch, bin mir aber der Tatsache voll bewusst, dass wir jetzt 20-30 ++ Jahre älter sind. 🙂
Ich bin mir auch bewusst, dass mein 16-jähriges Ich sich auf die Show ganz anders gefreut hätte als mein heutiges Ich, aber einе Sache ist sicher: In diesem Leben muss ich Korn live spielen sehen!
Song: Korn – Children of the Korn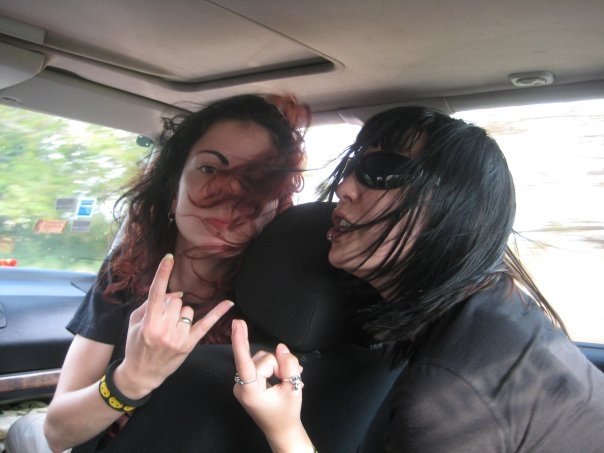 DEFTONES
Samstag, 4. Juli, 2020 um 19-23 Uhr
Columbiahalle
Der 4. Juli ist ein heiliges Datum in meinem Leben geworden, seitdem meine Familie am 4. Juli 2017 zu unserem neuen Leben in der deutschen Hauptstadt gelandet ist.
Es wäre ein Glück gewesen, unser drittes Berliner Jubiläum bei einem Deftones-Konzert feiern zu dürfen.
Außerdem war ich noch nie bei einem Deftones Auftritt und ich muss es wirklich, wirklich enthüllen, wie sie klingen.
Ein Internetnutzer namens mescalineeyes hat es in einem Forum geil zusammengefasst, das einer schrecklichen Aufführung von Chino Moreno im Jahr 2018 gewidmet ist: "Deftones sind eine meiner Lieblingsbands, aber sie werden nicht gerade als besonders gute live Musiker angesehen."
Höchstwahrscheinlich werden wir das neue Album sowieso hören, bevor wir die Band auf der Bühne sehen dürfen… Es existiert doch ein separates musikalisches Herz von mir, das ausschließlich Deftones gehört.
Neulich berichtete metalinjection.net, dass die Band derzeit ihr neues Album mischt. Dennoch gibt es offensichtliche Hindernisse. Die Webseite zitiert den Schlagzeuger Abe Cunningham: "Wir mischen es gerade. Angesichts der aktuellen Situation war es ein bisschen schwierig, alle in den gleichen Raum zu bringen. Wir dürfen nicht. Wenigstens machen wir mit dem Album weiter. Ich wollte euch allen für die Geduld und für das Interesse daran danken. Es kommt. "
In der Zwischenzeit, Hut ab! für Deftones, die das Gewinn von allen Merch-Artikeln von ihren abgesagten Tours an ihre Roadie-Crew weitergeben. Wenn Du sie unterstützen möchtest, kannst Du den Merch hier online kaufen.
Song: Deftones – Bored
FAITH NO MORE
Dienstag, 23. Juni, 2020 um 20-23 Uhr
Max-Schmeling-Halle Berlin
​
Ich erinnere mich immer noch an dieses Datum, den 20. April 1998.
An dem Tag gab die Band bekannt, dass sie sich trennen lassen.
"Nach 15 langen und fruchtbaren Jahren hat Faith No More beschlossen, die Spekulationen über ihre bevorstehende Trennung zu beenden… durch eine eigentliche Trennung. Die Entscheidung unter den Mitgliedern ist gegenseitig und es wird keine Schuldzuweisungen oder Beschimpfungen geben…".
Ich war 14 Jahre alt und habe gerade die erste Schritte ins Universum der alternativen Musik getippelt. Damals schon wusste ich aber, dass FNM meine Lieblingsband fürs Leben sein wird.
Der Gedanke, sie nie auf der Bühne sehen zu können, brachte mich in den nächsten Jahren mehrmals zu Tränen.
Dann, im Jahr 2004, verpasste ich Patton noch einmal, als er nach meiner Heimatstadt Sofia kam, um mit dem Rapper Rahzel eine Show aufzuführen. Ich war eine arme Studentin der Kulturwissenschaften und wohnte mit meinem damaligen Freund, der ein ebenso armer Musiker war. Wir haben Geld nur für ein Konzertticket gesammelt und da er meine mehrdimensionale Liebe zu Patton schon gut kannte, schlug er vor, dass wir dieses Ticket für mich kaufen.
"Wir trennen uns nicht! Wenn wir nicht zusammen gehen, dann geht keiner!" – Eh, mein 20-jähriges Ich war so beständig!
Am Abend des Konzerts blieben wir zu Hause und ich weinte wie verrückt voller Gram.
Wenn ich zurückblicke, glaube ich, dass der Freund es wirklich vorgezogen hätte, Patton zu überspringen und einfach mich zu schicken. Anstatt sollte er den ganzen Abend mein schreckliches Heulen und Stöhnen miterleben: "Patton ist da, aber ich niiiiiiiicht!".
Zum Glück passierte es so, dass meine fast obsessive Angst, Patton niemals auf der Bühne zu erleben, 5 Jahre später zu ihrem Ende kam. Am 14. August 2009 spielte die frisch vereinigte Band beim Bulgarischen Festival Spirit of Burgas. Das war – und ist immer noch – mein einziges FNM-Konzert. Es war aber nicht das letzte Mal, dass ich Patton gesehen habe.
Das letzte Mal, als ich Patton gesehen habe, war er in unmittelbarer Nähe. Ich meine es ernst: unmittelbar.
Das war nämlich auf einer Dead Cross-Show am 3. Juli 2018 in Berlins SO36. Nach dem Ende der Show sprang Patton einfach von der Bühne, landete unter uns Fans und begann eine Weile mit uns zu tanzen/ pogen. Unvergesslich!
Ich dachte nicht einmal daran, mein Handy zu benutzen und ein Video zu machen, da ich in der Unwirklichkeit von Pattons lächelndem Gesicht so abgesenkt war, das nur einige Zentimeter von meinem entfernt war. Zum Glück hat jemand alles aufgenommen (Epics letzter Refrain beginnt um 4:44 Uhr, um 5:31 Uhr springt Patton und schließt sich den Fans an).
Das darf jedoch nicht mein letzter Tanz mit Mike Patton sein.
Song: Faith No More – Land of Sunshine
DIE TOTEN HOSEN
Dienstag, 18. August, 2020 um 16:30 – 23 Uhr
Waldbühne Berlin
Der Titel dieses Blogposts könnte etwas irreführend sein, da nicht alle Bands, die ich dieses Jahr nicht sehen werde, zu meinen Favoriten gehören. Genau das ist der Fall bei Den Toten Hosen, irgendwie hatte ich nie wirklich die richtige Chance, mir ein ganzes Album von ihnen anzuhören.
Warum habe ich denn dann dieses Ticket überhaupt gekauft?
Letztes Jahr wurde ich als Trainerin bei einer wundervollen Veranstaltung eingeladen, der Internationalen Studentenwoche in Tunesien. Ich habe meinen eigenen Workshop konzipiert – "Kurzformen des kreativen Schreibens" – und ich hatte dabei das unheimliche Glück, die besten Schüler aus verschiedensten Teilen der Welt zu haben (meine Familie von kreativen Schriftstellern, wenn Ihr das lest – ich liebe euch!).
Eine meiner Schüler war Vili aus Bulgarien, eine zeitlose Seele, mit der ich mich sofort verbunden und befreundet fühlte. Nach dem Ende der Veranstaltung kehrte sie nach Sofia zurück, begann einen neuen Job und lernte dadurch Vesi kennen, eine gute alte Freundin aus unserer musikalischen Underground-Vergangenheit im Keller eines Clubs namens "O! Shipka!". 😀 Vili und Vesi haben herausgefunden, dass die beiden mich als gemeinsame Freundin auf Facebook haben. Nicht lange danach kontaktierte mich Vesi und ich lud sie gerne ein, mich in Berlin zu besuchen.
Wir haben uns in den letzten 7 Jahren nicht getroffen, aber wir haben einfach dort weitergemacht, wo wir das letzte Mal geblieben waren. Das Thema Musik war schon immer eine Sache für uns und auch diesmal war es nicht anders. Eines Tages erzählte ich Vesi die Geschichte, wie meine Berliner Freundin Cara vor einem Jahr zwei Tickets für Die Toten Hosen von ihrer Tante bekam. Der Hund der Tante wurde plötzlich krank und sie konnte nicht teilnehmen.
Genau wie ich, war Cara überhaupt kein Fan der Band, aber da sie die Tickets trotzdem hatte, lud sie mich ein, mitzukommen. Am Tag der Show fuhren Cara und ich zur Waldbühne Berlin, genau auf der anderen Seite der Stadt, wo ein betrunkener, aber freundlicher Fan, den wir unterwegs trafen, uns informierte, dass  die Show wegen eines Unfalls mit einem Bandmitglied abgesagt wurde. Er sah nicht als der zuverlässigste Mensch aus, den man treffen könnte, aber leider stellte sich heraus, dass er recht hatte.
Meine Freundin und ich haben es einige Monate später nicht zum verschobenen Konzert geschafft, da wir mit unseren Kindern auf dem Spielplatz abgelenkt waren und es zu spät wurde. Wir beide hatten einen langen Tag voller anstrengender Mama-Pflichten, also haben wir die Show übersprungen (lahm, aber wahr).
Ich erzählte Vesi genau diese Geschichte und sie klang wie folgt: Nun, ich hatte die Tickets in der Hand, aber ich war einfach zu müde und es war auch etwas zu spät.
Wieso habe ich vergessen, dass ich mit dem grössten DTH-Fan sprach?
Ich erinnere mich, wie ihr Gesicht innerhalb eines Herzschlags mehrere Farben veränderte. "Du … bist nicht gegangen? Einfach so?".