Alex Naydenov is a well known person within the Bulgarian community in Berlin. In 2012, being the co-founder of the organization "United Ideas for Bulgaria" and a fresh masters student in Berlin, his path met him with the dream of reviving the Bulgarian-German student association "Hashove". This organisation is also what connects him to Gibelin. Here Alex opens up in an interview about long-lasting friendships and the necessity of challenges.
What connects you to the student association "Hashove"?
There are two things. The first one is that I was a student in Berlin. I started my master's degree there in 2012 and graduated only a few years ago. The second thing is that along with another organization, "United Ideas for Bulgaria" I was closely connected to the student societies, at a time when there wasn't an established organization. There had been one before, in fact it was one of the first organizations of the type. A guy called Bobby and some other people who studied in Berlin established it way before Bulgaria became a part of the European Union. But at the end of 2012-13 everything was frozen. There were no people to run the organization. During an event of "United Ideas", we met this Bobby guy and other members of "Hashove" from back in the day. They told us how nice it would be to revive the student association. We responded warmly and decided to talk to our circle of friends and see who would want to take over.
We found volunteers instantly. They were also students, but younger than me. I was already a masters student and I didn't want to be part of the governing body, so I was never officially connected to the formal organs. I was convinced that the most important thing was that bachelor students take over and work on different projects with their own enthusiasm and energy. Firstly, because that way much more interesting things can happen. Another thing is that they simply know their needs better than someone who is 3-4 years older than them. Thus, a fire team of students from all Berlin universities, of all specialties, was created. Of course, Dilyana and Valentin were part of the group too. By running events and concerts parallelly to everything else, they contributed to an exchange that still exists to this day. On the one side – the organization of students who run cultural events and parties, and on the other – the concerts of Gibelin. Indeed, this moved the student community "Hashove" in the right direction thanks to the additional opportunity for party, for unity, for us to be together.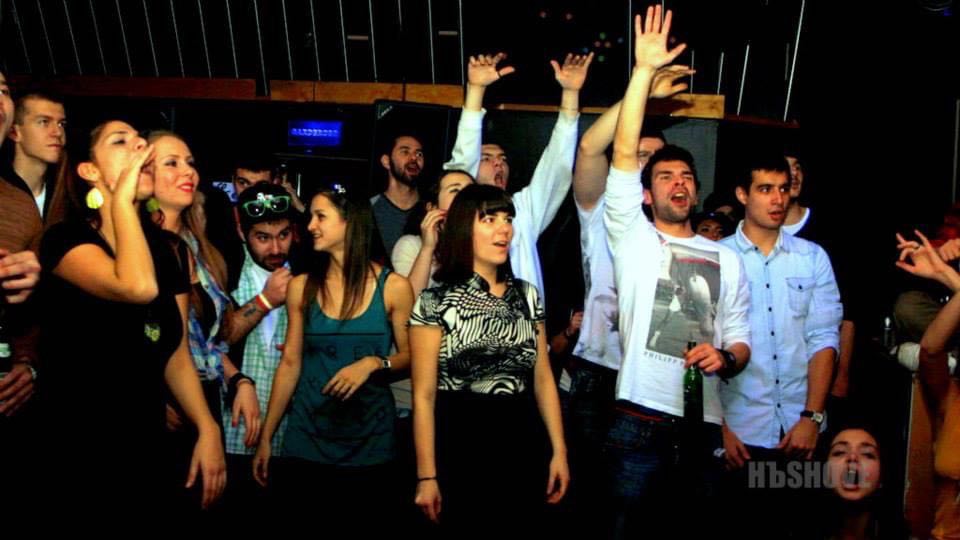 What inspired you to revive the student organization in Berlin as a Bulgarian-German cultural community?
This has always been the main purpose of "Hashove", so it did not come from me. However, it perfectly overlaps with my own idea of ​​what a student community abroad should be about. Contrary to what many people think, that this way one remains closed in the Bulgarian community, I think this is an opportunity to develop many valuable qualities: entrepreneurship, teamwork, learning by doing. They are supranational and have nothing to do with whether you call it a Bulgarian association or something else. I believe this is a very appropriate format that has really launched some people in terms of abilities. We have people who, after being in "Hashove" for several years and gaining experience, have run moot courts, MUN-groups, things that have nothing to do with a single country. On the other hand, purely as a community, we have discovered things from Bulgaria that we were missing. Besides, we were glad to be able to present elements of Bulgaria to foreigners. One such association is also a bridge to Germany.
Are you still connected to the students from "Hashove"?
Yes. I was part of an event by "Teach for Bulgaria" in Berlin where there was a two-day leadership academy in the form of a workshop. I had the pleasure of being one of the guest speakers. That's how I met a couple of current students in Berlin – wonderful people who were eager to pick up the baton from the previous board of "Hashove". They are the active people in the organisation right now. "Hashove"'s current board is super productive and competent. They do a lot of cool things that I would've never thought of, and everyone who participates in their events enjoys them immensely. 
We became friends, actually. Some of us even went to the mountains in Bulgaria together, only a few months after we first met. Despite these eight years of age difference between us, we are close friends and do things together, completely apart from all the organizational stuff.
What is your dearest memory of that time?
"Hashove"'s events usually ended around 9:30 p.m. and then almost always a party followed. Sometimes the parties were bigger, especially after a concert of Gibelin. But whenever the events were smaller we did the parties in my dormitory at Ostbahnhof. I had the unique chance of having a giant room, twenty-some square meters, on the 17th floor with a view of Alexanderplatz. Super cool location for parties. Our record has been about 50 people. In the turbulent first year after the restoration of "Hashove", it was known that the evening would probably end there. We would listen to all sorts of things, including some Bulgarian musicians like OGI 23, Stefan Valdobrev, etc. We would stay up until the morning. These are my most precious memories. To dance to Stefan Valdobrev's music, meeting the sunrise on the 17th floor.

Was it a challenge to be one of the few at the time who created events dedicated to the Bulgarian youth culture in Berlin?
There have always been difficulties. To find a location for the event, to reach more people. Challenges have been there, but we've seen them more as a necessity. We didn't look at anything as a problem, we were just looking for the solutions. It's clear that there'll always be obstacles, but we'd just do the job and not care. If we'd set the date, if we'd announced the event, it had to happen. Everyone had this mentality, and I can see that that's still the case.
Tell us a little more about the concerts, the theaters, the movie screenings. Which events were particularly interesting?
One of my fondest memories of an event is Gibelin's first or second concert. OGI 23 performed at bar Chester. I remember the logistics around the show. The members of the band were assigned to sleep in two or three student dormitories. And that big, nice bar was completely crowded for the concert. Everyone wanted to come since OGI 23 were quite fashionable at the time, having just released a new summer hit. It was a unique experience. We had invited two or three people from other German cities. They were about to start other local student associations. There was this girl, Steffi from Frankfurt, who, encouraged by old members of the organisation "Saedinenie", was gathering the know-how to revive the association there. We had come in touch with each other, and we invited her to Berlin. She came over and right in time for the concert of Gibelin and OGI 23. It was amazing, there was the cohesion of the local community, but also the desire to present ourselves to other Bulgarians. And all this under the sounds of this awesome Bulgarian group. I still remember the dance floor with all the people.
How do you spend the current troubled times? Do you find a place for culture?
Quite well. Last weekend I was at a virtual festival by "Go guide", to which chefs, musicians, and comedians had been invited. So I spent a few hours of the weekend at this cultural event. It's not the same, but it gives you at least a little sense of normalcy. I also celebrated my 30th birthday online with friends. We shared some old, nostalgic photos from back when we were together in person.